In our offer you can find plastic one-way kegs manufactured by a Belgian company
Dolium
. These kegs have been on the market since 2013 and their popularity is constantly increasing. Nowadays DOLIUM has distribution partners all over the world in 35 countries and their products are considered by many people to be the standard in one-way packaging solutions to the beverage industry.
Why to choose one-way plastic kegs over stainless steel returnable kegs?
Dolium® produces
100% recyclable
one-way kegs, which means no cleaning, no waste and no return is needed.
On the other hand, returnable stainless-steel kegs must be mapped, recirculated, evacuated, and cleaned before filling.
These are all additional costs and take extra time. In contrast, plastic kegs arrive
clean, dry, sterile
and ready to fill.
Moreover, the one-way kegs are affordable and have no investment costs, thus ensuring
90% savings in CAPEX
compared to returnable kegs.
Thanks to the optimized keg geometry, they are easy
to handle and stack
, they can be stored vertically or horizontally. The light weight means logistics savings in both inbound and outbound,
reducing average transport costs by 60%.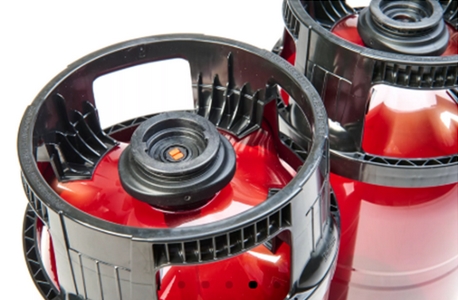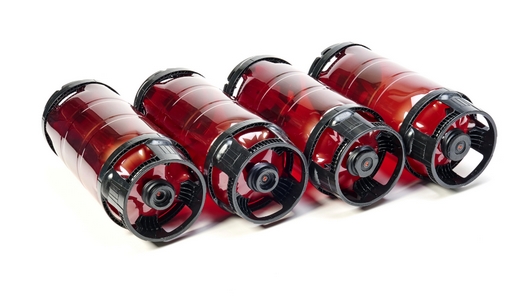 Usage, filling and tapping
Dolium kegs are
suitable for filling beer, wine, ciders, cold coffee, kombucha, and other enhanced beverages
.
They are available in
12.5 l, 20 l and 30 l
volumes.
Each filling line can differ from another, therefore Dolium plastic kegs
are designed to be filled from top and bottom
. They can run on manual, semi-automatic, full-automatic, in-line and rotative filling lines with a filling speed corresponding to stainless-steel kegs. Dolium one-way disposable kegs are designed to be a direct replacement for stainless steel kegs, without the need for any extra filling or draught equipment.
What is the environmental impact?
Dolium one-way plastic kegs are made of
PET and HD-PE
materials
.
The basic resin for the body of the keg is polyethylene terephthalate (PET), which is a thermoplastic material, that is often used in food, beverages and other liquids packaging. The top and bottom of kegs is made of HD-PE, which is a high-density polyethylene used for injection of plastic parts.
These types of plastics are 100% recyclable and the lifetime of these materials is 600 days. Due to the complete recyclability, the environmental impact of one-way Dolium kegs is much lower compared to stainless steel returnable kegs. This can be explained by the light weight construction, which means less material is consumed during the production, as well as savings in keg logistics and recyclability. According to the
ECO-99 method of environmental assessment
, Dolium plastic kegs are
up to 10% more environmentally friendly than KEG barrels
.
Technical details
Dolium one-way kegs feature an innovative and patented "
Automatic Pressure Relief Valv
" (APRV). Its dual purpose allows:
Automatic Pressure Release during storage or transport, if pressure exceeds 5 bar. The valve then automatically closes when it reaches 2 bar.
Manual Activation - to release pressure or depressurize the disposable keg after emptying.
The maximum working pressure is 3,5 bar which is equal to stainless steel kegs.
The technical shelf life, in compliance with the brewer's specifications, is proven to be 6 months. This is equal to returnable stainless-steel kegs.
The Dolium one-way keg body is composed of Invista® PET Polyshield®, which contains an oxygen (O2) active barrier, which is keeping the oxygen away from the product and at the same time protects CO2 from leaving the keg. In addition, the specific colour of the keg wall protects the product from UV radiation.